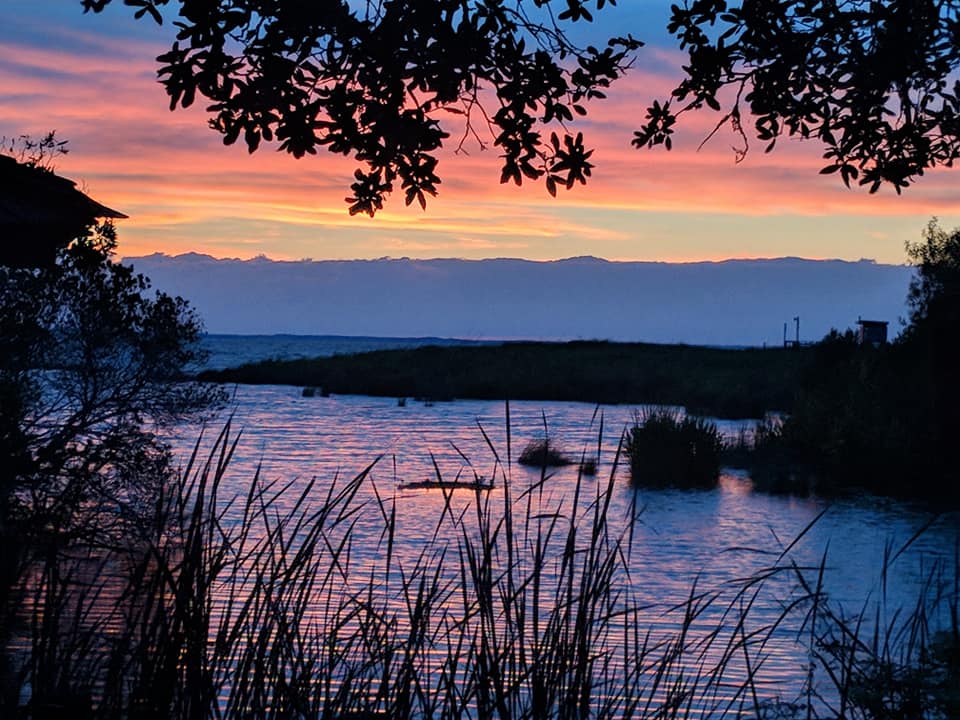 Hello!
We are grateful for your interest starting a branch of the Good Grief Network in your area. The meeting last night went so well.
The first hour we went through the presentation attached and the last hour was spent answering questions about the process of facilitating.
We were also joined by Salt Lake City, UT facilitator Adair and Ogden, UT facilitator Steve who helped answer some questions. Thank you to Adair and Steve!
Here is the link to the recording.
Now, there's good news and bad news. To see this explained in a short video, click here. Otherwise, long rant ahead…..
Ok bad news first. We at the Good Grief Network are new to Zoom. 
I was recording our meeting to an external hard drive attached to my computer but about 1.5 hours into the meeting, the recording just stopped. I started the recording again and thought I'd stitch the two videos together to send them out today. 
Unfortunately, the first one is missing. Meaning, the first 1.5 hours of our meeting is NOT recorded.
Confession: my computer is full (it makes sure to remind me daily). I am constantly cleaning it and using an external to help with my day-to-day tasks. The past 2 months have been fraught with technological issues like the one I just described.
So, why not reset my computer?!? Well, Aimee did it to hers (for a similar reason) and she lost all of her programs – including Microsoft Word. We have purchased Microsoft from TechSoup (they offer low cost programs for nonprofits) but have not been able to access our purchase for MONTHS. So, not really looking forward to resetting my computer and losing access to my programs. It's tough writing a book without Microsoft Word….
Anyhow, long explanation for technological issues. We're learning – it's been a hell of a process and I'm so sorry to have lost the first 1.5 hours of our meeting yesterday. I am frustrated and sad. Especially because I promised you a video.
The good news is that the 50+ sign ups we had showed the need for us to host more discussions on how to facilitate the 10-Steps. We've set dates for a second & third discussion (which will be a lot like the first for those of you who couldn't make it or a good refresher for those of you who did): 

Click on a link below to sign up for a time slot:
 (Here is a time zone converter, if you need it)
Below are additional resources from the meeting last night:
To purchase our manual, please check out our webpage: https://www.goodgriefnetwork.org/10-steps/
News By or About Good Grief Network:
Top Asks from GGN:
1: Do your inner work.
2: Start a branch of the GGN & practice the 10-Step program locally
3: Normalize discussions on climate change & other systemic issues.
4. Provide a monthly Patreon donation to LaUra & Aimee to further their creation of the Good Grief Network.
5. Purchase books and resources to help them stay current.
(Address: Good Grief Network
HC 3 Box 1036
Tucson, AZ 85739)
6. Support their GoFundMe to attend professional and personal development workshops. (We have a podcast episode, Beyond Shame: Asking for Help all about this ask – check it out.)
 Some of you had questions about what to include in a flier, so we've added some into this post. Thank you Josh, Sarah, and Michela for sharing yours.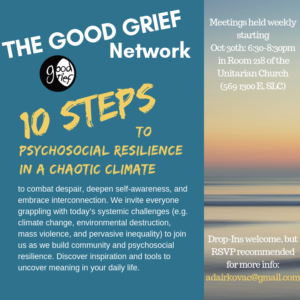 GGBA Flier (A second option)
Thank you for showing up last night. Thank you for your questions and desire to host these discussion. Please keep in touch and let us know if we can help you.
Again, I am sorry for the recording issues. I know many of you were looking forward to watching.
With Gratitude,