10-Steps to Personal Resilience & Empowerment in a Chaotic Climate
Photo Credit:
Leah Hogsten
…Because how we live in this time and place matters.
The Good Grief Network's unique 10-Step program aims to help build personal resilience and empowerment while strengthening community ties to combat despair, inaction, and eco-anxiety on the collective level.
Ten Meetings. Ten Weeks. Small Groups. Heart-centered Process Work. Hosted by the Good Grief Network — Or You!
Purchase our manual & bring the program back to your local community. Our asking price is $100, $50 (discounted price) or $25 (low income) for the digital facilitation package.
10-Steps to Personal Resilience & Empowerment in a Chaotic Climate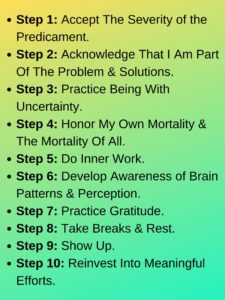 Bring the "10-Steps to Personal Resilience & Empowerment" Digital Facilitation Package Home To Your Community.
Included In E-Manual: List of Step-Specific Resources, Suggested Expectations & Norms, Facilitator Tips, Meeting Script, the 10-Steps and Their Readings, Talking Points, and More….
Also included is an invitation to a digital"Facilitation Discussion." The discussion is a presentation and Q&A to help you get started.
CHOOSE YOUR PRICE. We ask $100 for our time & energy putting this program together and for the facilitation discussion, but we don't want money to prohibit you from starting your own group!

Resources To Dig Deeper Into Each Step
We've curated a wide variety of writings, audio, and other media we specifically recommend for those at each step in the 10-step program. Our updated and expansive list is included with the purchase of our e-manual.
Overall Recommendations
Quotes
"There must be those among whom we can sit down and weep and still be counted as warriors." ―Adrienne Rich
Don't ask what the world needs. Ask what makes you come alive, and go do it. Because what the world needs is people who have come alive." ― Howard Thurman

"It is no measure of health to be well adjusted to a profoundly sick society." ―

Jiddu Krishnamurti
"If you don't like the way the world is, you change it. You have an obligation to change it. You just do it one step at a time." — Marian Wright Edelman
Articles
Books
Video
Poems
Courses
Music
Spotify Playlists: