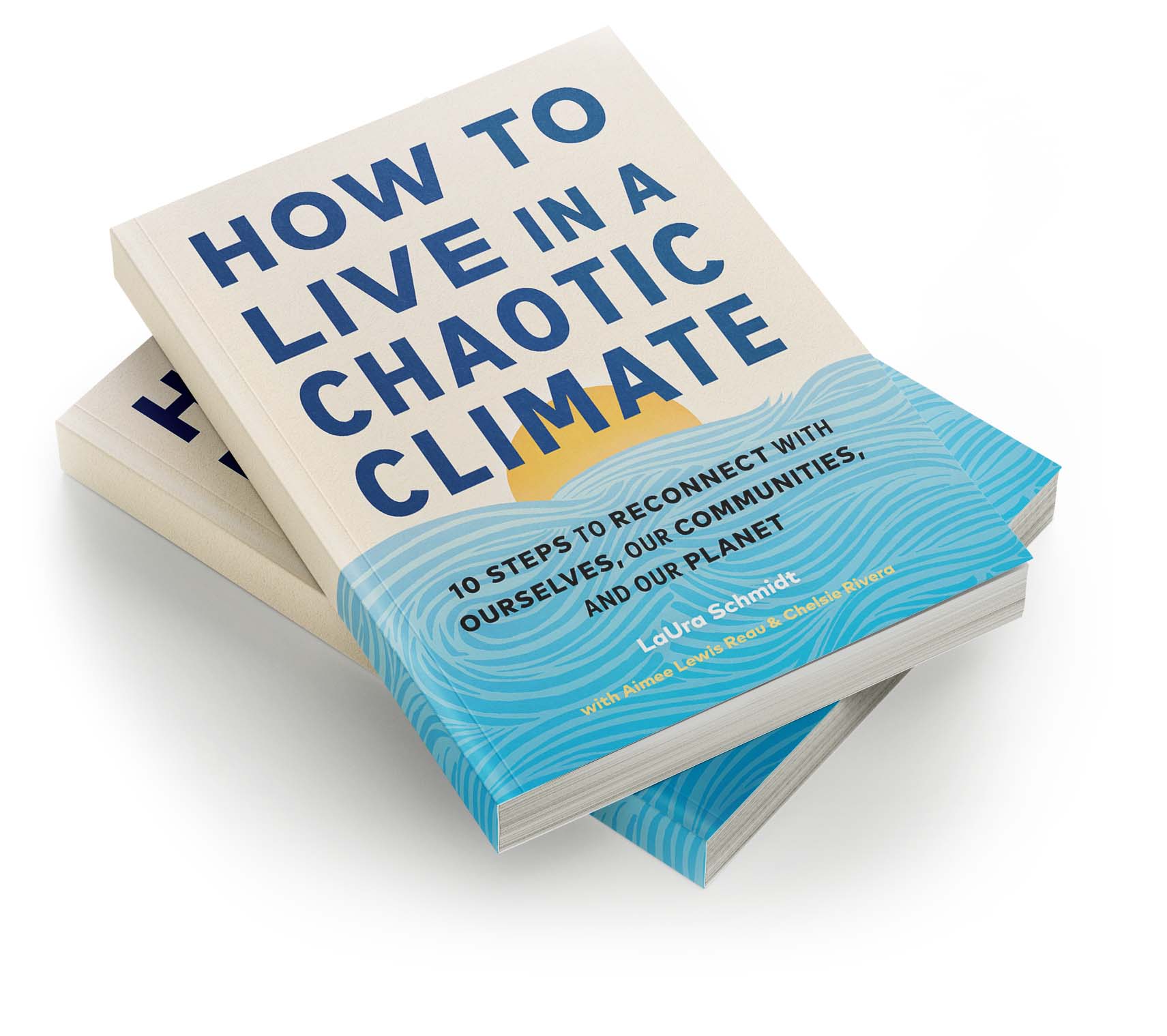 How to Live in a Chaotic Climate is a salve for these times, walking us through how to connect and stay open-hearted in deeply fragmented, disconnected times.
Eco-distress is real. How to Live in a Chaotic Climate is here to help you rediscover meaning, joy, and connection as the tumult around us increases. Based on the Good Grief Network's acclaimed 10 Steps to Resilience and Empowerment in a Chaotic Climate program, this book unpacks the social, political, and spiritual nuances of the climate emergency, step by step.
Accept the Severity of the Predicament
Be with Uncertainty
Honor My Mortality and the Mortality of All
Do Inner Work
Develop Awareness of Biases and Perception
Practice Gratitude, Seek Beauty, and Create Connections
Take Breaks and Rest
Grieve the Harm I Have Caused
Show Up
Reinvest in Meaningful Efforts
Each step includes practices that draw on meditation, mindfulness, journaling, dance, somatics, and self-inquiry to help readers cope with overwhelming feelings, heal wounds caused by disconnection, and act in generative ways that help cultivate a just and equitable future for all.
What's Included in the Book
Personal stories from the authors
Overview of the 10-Step Program
Heart-centered philosophy for disruptive times
LaUra (she/her) is the founder of the Good Grief Network and the brain behind the "10-Steps to Resilience & Empowerment in a Chaotic Climate" program and the FLOW Facilitation Training. She is a lifelong student, curator, and practitioner of personal and collective resilience strategies.
Aimee (she/her) is the cofounder of the Good Grief Network and the heart behind the "10-Steps to Resilience & Empowerment in a Chaotic Climate" program and the FLOW Facilitation Training. Born and raised in Adrian, Michigan, she is an edgy & reverent contemplative, healer and yoga/intuitive movement instructor.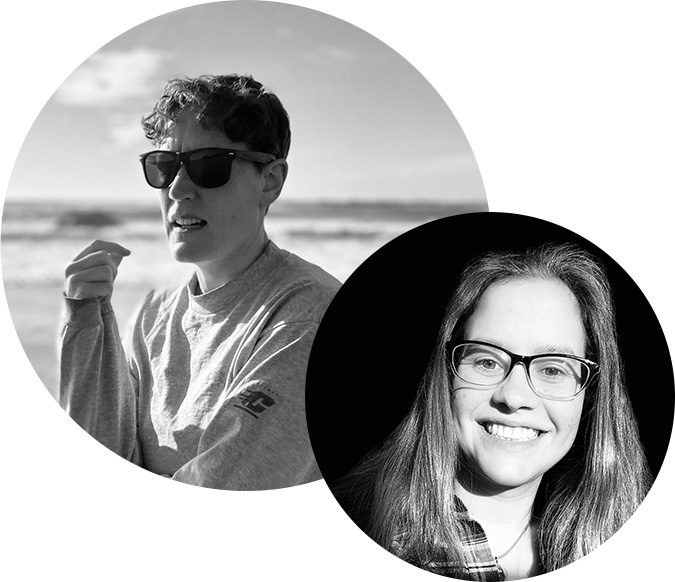 PRE-ORDER YOUR COPY TODAY
"How To Live in a Chaotic Climate is both a source for hope and a guide for solace in the midst of climate collapse. This book and its pragmatic vision allow us to reconnect in a relational world, helping us feel less isolated, less lonely, less impotent to do something that matters. Climate grief is a diagnosis for our love for the planet. This open-hearted book allows us to embrace 'Good Grief' and embody the necessary actions to cool the rising temperatures in our politics, in our families, and within ourselves."
—Terry Tempest Williams, author of Erosion: Essays of Undoing
"There's a lot of gentle, fierce, and creative wisdom in these pages—and boy do we need it now!"
—BILL MCKIBBEN, AUTHOR OF FALTER: HAS THE HUMAN GAME BEGUN TO PLAY ITSELF OUT?
"Fiercely compassionate and wonderfully practical, How to Live in a Chaotic Climate is a necessary guide for finding solidarity in climate despair, tolerating ecological distress, and metabolizing planetary grief into sacred purpose and joy. For anyone seeking relief and flexibility in how they are thinking, feeling, or acting in the climate crisis, give this brave book a go."
—BRITT WAY, PHD, AUTHOR OF GENERATION DREAD AND PLANETARY HEALTH FELLOW, STANFORD UNIVERSITY SCHOOL OF MEDICINE
"A groundbreaking book that approaches its methods in evidence-based hope with realistic and tangible steps that allow us to build momentum for healing and action in the climate crisis."
—ISAIAS HERNANDEZ, ENVIRONMENTAL EDUCATOR AND CREATOR OF QUEERBROWNVEGAN
"This is the book my heart has been yearning for. It is a brilliant blend of personal narrative and clear-eyed science. With their emphasis on cultivating community, tending to personal rejuvenation and mental well-being, and offering practical tools for lightening our footstep on our beloved Mother Earth, the authors lift up every value we can all embrace right now to not only pluck us from the brink of the cataclysm but also transform the soul of the world."
—Mirabai Starr, author of Wild Mercy: Living the Fierce and Tender Wisdom of Women Mystics
"It goes like this: we pass a cup, back and forth, from one to the other. Inside the cup is what we most need to drink to keep going in this long struggle—a potent brew of inspiration; wisdom; real, heartfelt humanity; stories; tears; and laughter. We drink, take a long sip, and go on to do what is ours to do. The doing refills the cup with hope. This book is that cup."
—SUSANNE MOSER, PHD, COEDITOR OF CREATING A CLIMATE FOR CHANGE AND FOUNDER OF THE ADAPTIVE MIND PROJECT
"Simultaneously intimate and thoroughly researched, this gem of a manual shares the story and the wisdom of Good Grief Network, the first organization to create collective space for processing climate distress and transforming it into generative action. Changing the systems that cause harm to people and the planet will require collective effort, to be sure, and this book outlines the inner practices that such an effort will require of us all."
—SARAH JAQUETTE RAY, PROFESSOR AND CHAIR OF ENVIRONMENTAL STUDIES AT CAL POLY HUMBOLDT AND AUTHOR OF A FIELD GUIDE TO CLIMATE ANXIETY: HOW TO KEEP YOUR COOL ON A WARMING PLANET
"How to Live in a Chaotic Climate offers a needed space to contend with the worries, uncertainties, and grief associated with the consequences of global climate change. It is inspirational and courageous in the call to seize the moment by creating communities, investing in each other, and working for meaningful social change."
—BRETT CLARK, COAUTHOR OF THE ROBBERY OF NATURE AND PROFESSOR OF SOCIOLOGY, UNIVERSITY OF UTAH
We'll be hosting an online book-launch which will be open to everyone who has pre-ordered How To Live In A Chaotic Climate. Fill out the form below to let us know where you pre-ordered and we will send you more details as soon as they're available.