 GGN-Z
A 5-WEEK PROGRAM for TEENS WHO want TO
GET REAL, BUILD resilience, and
be re-inspired by joy and creativity
Do you feel overwhelmed by the climate crisis and lack of meaningful action?
Are you struggling to find joy in the world that's been handed to you by your elders?
Do you want a place to talk about your thoughts and feelings with other teens who feel the same?
You are not alone!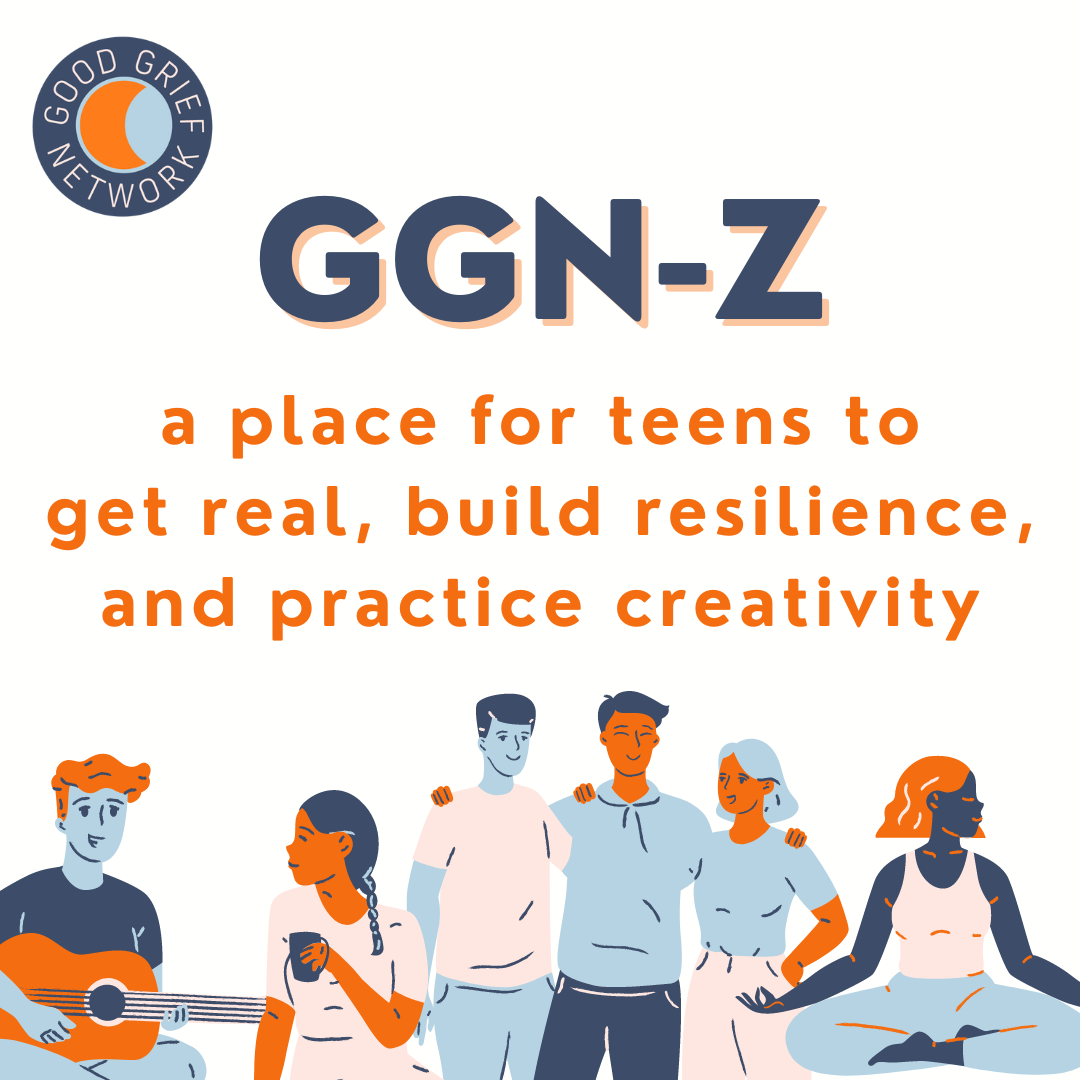 Five Saturdays on Zoom
9:30am PST / 10:30am MST / 12:30 pm EST for 90 minutes
November 4
November 11
November 18
skipping the week of 'Thanksgiving'
December 2
December 9
There tends to be a lot of darkness and negativity when it comes with global warming, but this program helped to learn to focus on the brighter, more positive things.
Very grateful for this experience!
This program was one of such uniqueness. It's different than anything I have seen before or been offered.
A lot of teens seek opportunities like these where they have a safe space to talk about the climate crisis and anxiety that follows that. So this program leads you in activities that are well thought out and overall make you look at the environment in a more positive way!
Eye-opening!
The [GGN-Z] Circle was an amazing experience to look further into environmental issues facing our world today, as well as learning more about ourselves and our own emotions around various topics.
I would definitely recommend this program as it helped me a lot!
Good Grief Network is excited to announce the launch of GGN-Z, a program for teens.
GGN-Z is a weekly gathering that helps young people process and manage the complex and heavy feelings that arise when they think about the climate crisis and its impact on the world around them. We do this through deep listening, building supportive community through connective exercises, and learning valuable skills and practical tools for navigating an ever-changing world.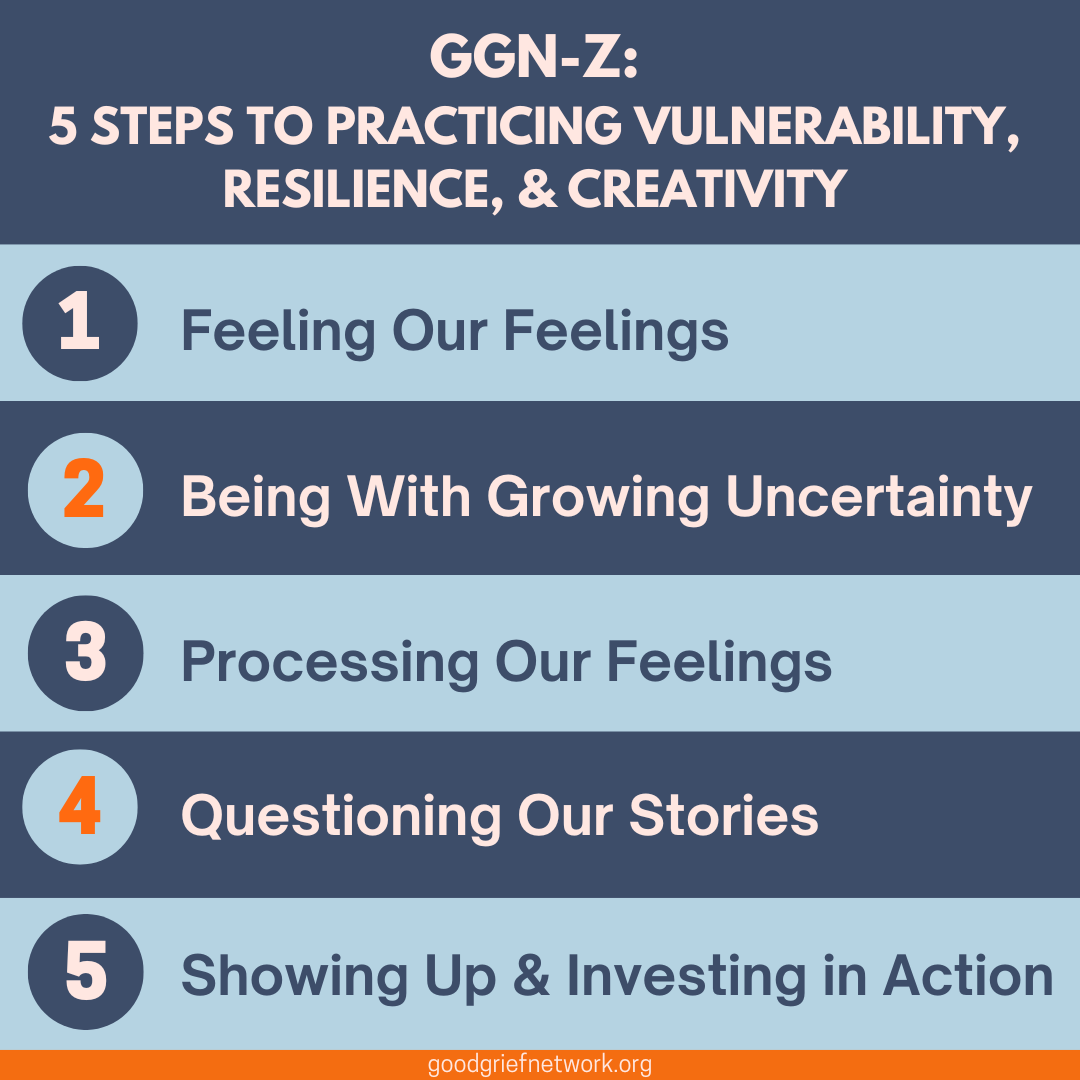 A 2021 study of 10,000 16- to 25-year olds in 10 countries showed that:
 

59%

were

very or extremely worried

about climate change;

84%

were at least

moderately worried

about climate change;

75% said that they think the future is frightening; and

45% said their feelings about climate change negatively affected their daily functioning

In response to the heavy emotional burden our young people carry, the GGN-Z program offers a deep, fresh, and engaging approach to tackling the greatest crises of our time.
—
This program is not about activism or volunteering, and it is not a class with homework. Instead, it is a place where young people can come together to tell the truth about how they're living.
◉ This is a place to tell the truth about how we are coping with this huge planetary crisis
◉ This is a place to explore our fear, rage, anxiety, hope, burnout, and joy
◉ This is a place to learn tools for emotional processing that we aren't being taught in school
◉ This is a place to practice how to talk about these big issues with our friends and family
◉ This is a place where we don't have to pretend to know what's next, but we can build the trust and relationships to explore our possibilities for the future, together
Over 5 weekly sessions and through activities such as journaling, nature meditations, collective visioning, and art, we will learn social and emotional intelligence skills that will help us acknowledge, process, and navigate the feelings that are negatively impacting our daily lives.
Not able to make it to this session of GGN-Z?
Sign up to get notified about future GGN-Z sessions > 
The Curriculum
During this program, teens will:
Practice active listening and radical vulnerability

Build deep and trusting relationships with their peers

Learn tools and practices to cope with heavy emotions

Practice journaling, meditation, breathing exercises, and group activities to build social and emotional intelligence

Explore joy, passion, and imagination to build a future that centers justice and equity
At the end of this program, teens will:
Be equipped with tools and practices to handle the emotional challenges of living in a chaotic climate

Walk away with a community of like-minded peers

Have created an activity book and journal filled with thoughts, reflections, activities, and grounding exercises to use in the future

Receive a list of recommended resources to foster their continued personal growth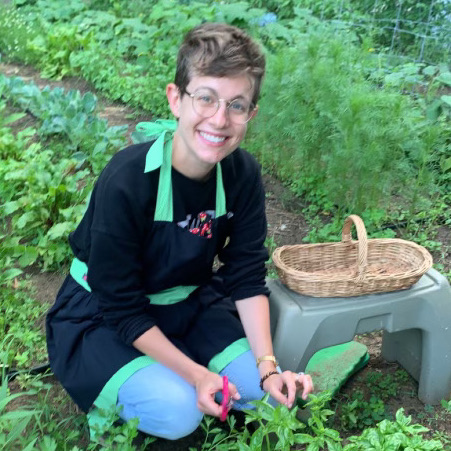 Annalisa Galgano
(United States)
Annalisa is a nonprofit educator with a passion for youth mental health. She holds a bachelor's degree in Social Research & Public Policy from NYU Abu Dhabi, where she co-founded REACH, a peer-led mental health education and counseling program for university students. During her time as a graduate student at Columbia University, Annalisa worked with young people as a tutor and volunteered as a crisis counselor in her free time. Annalisa participated in a GGN 10-Step Program in 2021 and found the program transformative in her own life. She has been working with GGN for the past year to train as a facilitator and develop the 5-step GGN-Z program. She is excited to bring her experience and passion to facilitate this program and support young people on their journeys towards personal growth and healing.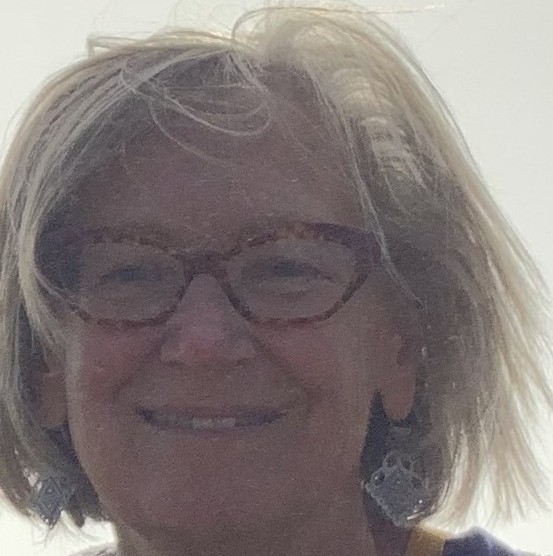 Susan Igras
(United States)
Susan is a program developer and evaluator focused on teen health and wellbeing. She holds a Bachelor of Science in Zoology from the University of Michigan and a Master of Public Health degree from Tulane University. Her interests, work, and joy have been in the international sphere. She supports staff and young people in nonprofits and governments to improve adolescent and youth-focused programs in Africa and Asia. Susan learned about GGN in 2021 and joined a 10-Step Program. It was a phenomenal experience! And highlighted the gap in similar programs for teens. This past year she has worked with GGN to develop and test, with teen advisors, the GGN-Z program. She looks forward to the summer programs and learning from young people as they explore their thoughts, feelings, and forward actions.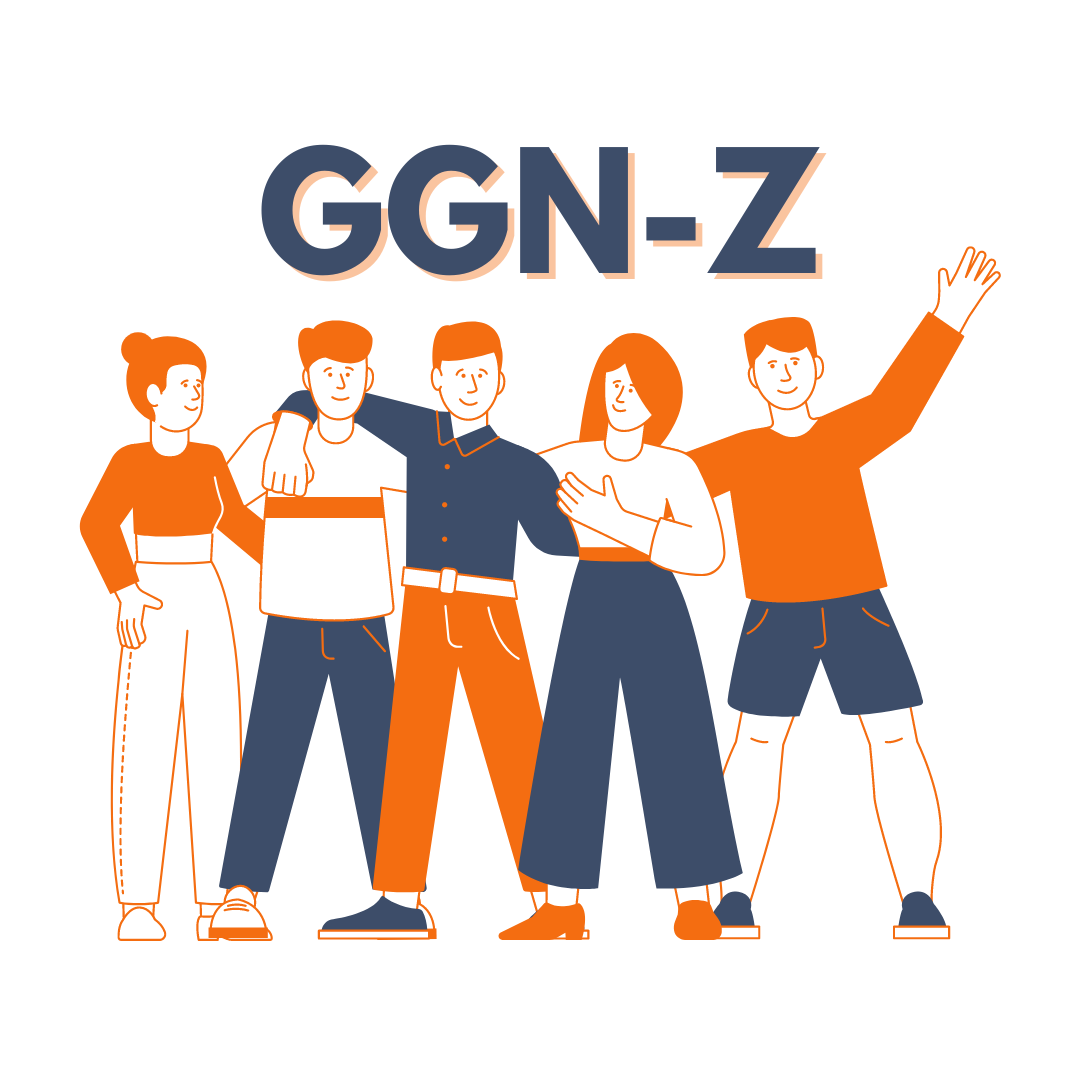 Calling all youth facilitators, teachers, school nurses and school counselors!
Good Grief Network is developing a training for individuals who want to bring our innovative teen resilience program to their school, organization, or club.
Good Grief Network's GGN-Z Program is inspired by Good Grief Network's 10-Step Program, which is a peer-to-peer support group where people come together to process their heavy feelings about the state of the world, build resilient communities, and co-vision new futures. This program has helped thousands of people around the globe navigate heavy emotions, deconstruct cultural narratives, and redefine what meaningful action they can take for themselves and the collective.