What is the Good Grief Network?
The Good Grief Network builds personal resilience while strengthening community ties to help combat despair, inaction, eco-anxiety, and other heavy emotions in the face of daunting systemic predicaments. The state of the world seems unmanageable, chaotic even. For those of us paying attention, awareness of our systemic issues is confusing and painful. You may feel pulled to act, but don't know what to do.
• Do you want to transform the status quo so it protects the basic rights the majority of folks and not just desires of the 1%?
• Do you feel a nudge to help protect ecosystems and biodiversity?
• Do you yearn to preserve the best parts of being alive and pass it to future generations?
• Do you view all people as equal and think no one deserves to starve?
• Do you feel the need to protect the voiceless?
• Do you feel overwhelmed by today's news headlines?
• Are you worried about the state of democracy?
• Have you ever felt helpless or hopeless about racism, classism, sexism, homophobia, and other systemic issues?
• Does species extinction or climate change keep you up at night?
• Do you want to live in a world with less violence and more cooperation?
• Do you want a better life with fewer work hours, more time with your loved ones, and rich experiences?
• Are you unsure of your skills and how you can contribute positively to your community?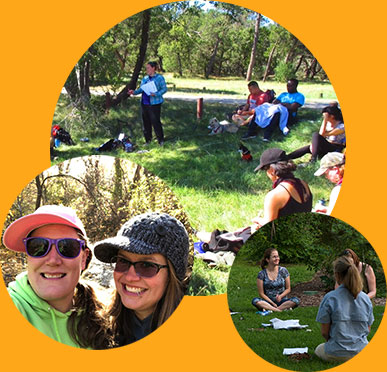 If most of these questions stir something in you, you are not alone! We want feel it too! The old paradigm is fading and we want to help usher in the new one: one based in genuine love, mutual respect, life-preserving, over-consumption fighting, and lending a helping hand.
The Good Grief Network opens peoples' hearts. Each of us possesses tremendous wisdom within that we have been conditioned to ignore. By appealing to our brains with research and resources, we open the door for more heart-centered work. We provide a gateway to practice opening and trusting our hearts, to transcend fear and re-establish connections. This creates a foundation of resilience and strength to show up outwardly as activists and advocates for the things we love and care about.
Through a variety of techniques, we facilitate the metabolization of heavy feelings which puts us at risk for burnout, falling into despair, ecoanxiety, or depression. We build psychosocial resilience to help each person uncover their greatest strengths and determine how best to contribute to the world we want to co-create. We provide tools and an encouraging community that helps overcome denial, and prevent hopelessness, helplessness, activism fatigue, and burn out. These tools are necessary for anyone looking to sustain themselves for the long haul.
Good Grievers treasure critical thinking, nuanced dialogue, and coloring outside of the lines. Community is Tragedy's remedy.
Open minds, respect, and integrity are required.
Aimee Lewis-Reau, CoFounder & Creative Director
Born and raised in southeast Michigan, Aimee is a certified Scholè Yoga Instructor and RYT 200. She DJs under the name eXis10shAL and takes delight in making crowds dance, because Alice Walker said it best: "Hard times require furious dancing."
Aimee received her Bachelor's degree in English, Poetry, and Religion from Central Michigan University before obtaining her MFA in Creative Nonfiction from Georgia College & State University. Small, but fierce, Aimee is edgy yet reverent.
You can reach her at Aimee(at)goodgriefnetwork(dot)org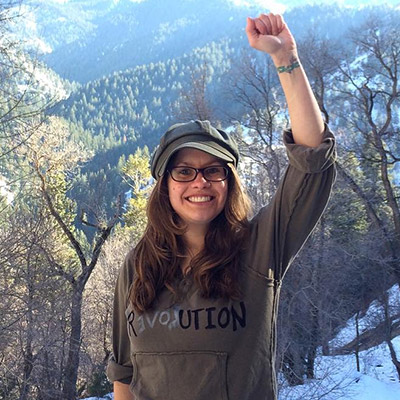 LaUra Schmidt, CoFounder & Director
A griefworker once told me, "Grief chose me." I feel that sentiment. From a very early age, I've been surrounded by– and embedded in– grief. My parents were alcoholics/addicts and I experienced significant trauma and many deaths along the way. 
With such a tumultuous upbringing, I was given a choice: give up & give in or figure out why the I am here and bring meaning to my own existence. I chose the latter. I choose to be a force of good in the world.
I am skilled at holding space and sitting with uncertainty and discomfort. I have worked with and through a series of modalities to clear my trauma and practice becoming the best version of myself.
I am trained in nonviolent civil disobedience, and am a  Climate Reality Leadership Corps member & mentor. I am in the process of earning certificates in Mindfulness Practice.
While a bit of a nomad, I hail from Michigan, and graduated from Central Michigan University with a BS in Environmental Studies, Biology, and Religious Studies. My MS in Environmental Humanities was earned from the University of Utah.
I grew to understand the importance of place through spending some time living and playing in North Carolina & the bayous of Louisiana (directly after the BP oil spill). Inspiration finds me in natural landscapes and honest, open-hearted dialogue. You can reach me at Laura(at)goodgriefnetwork(dot)org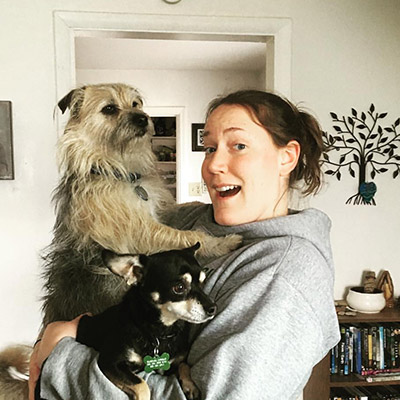 Sarah Jornsay-Silverberg
Sarah Jornsay-Silverberg (she/her) is a writer, lawyer, and curious Earth-dweller. Since childhood, Sarah has observed the grace and suffering in the world around her and wondered, "what is mine to do?" She has spent a lifetime attempting to answer that question by focusing her attention on international human rights, climate justice activism, therapeutic introspection, foreign language education, and most recently, community resilience-building. She found Good Grief Network while searching for safe spaces to navigate the heavy emotions she experiences while attempting to live in joy and service during the climate crisis. She currently spends her days balancing work, rest, play, and reverence for the Northern California cherry blossoms. 
Joshua Swenson
Joshua Swenson is a writer and stay-at-home father. His fiction might be considered Weird Cli-Fi, Post-Science Fiction, or Enchantivism – exploring how humans might continue to evolve in strange ways as they reconnect with the rest of life on Earth. As a resident of the San Francisco Bay Area, he is an eager hiker and gardener, an amateur naturalist and admirer of the more-than-human world. Joshua could stare for hours into a single tidepool. He believes that wonder is an essential survival skill in the Anthropocene.